Bank Reconciliation
Bank Reconciliations should be done every month as the monthly statement is received. The modules in MAS90 that affect Bank Reconciliation such as Accounts Payable, Receivable, Purchase Order, General Ledger, etc. are already integrated with the Bank Reconciliation Module.  To reconcile the bank account follow these steps:
1) Select Bank Reconciliation Main menu > Reconcile Bank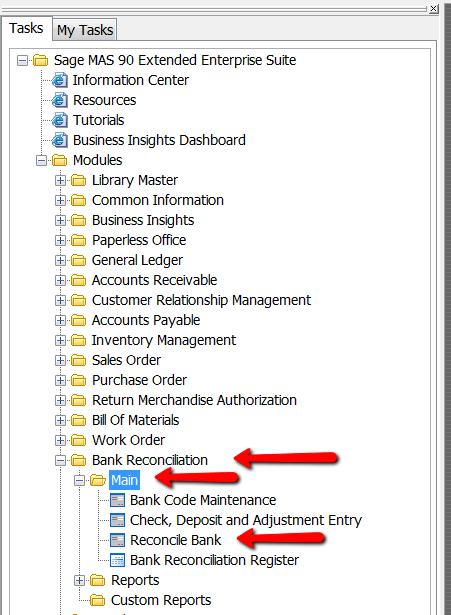 2) Select the Bank Code for the Account you would like to Reconcile (A for Main Operating Checking Account and B for Payroll Account)
3) Enter the ending balance from your monthly bank statement at the end of each banking period.
4) Check off all cleared checks, deposits, and adjustments.
The Checks tab displays all outstanding checks and indicates if they have cleared. Checks voided automatically by the system when printing an alignment pattern, as well as checks that have been voided manually, are listed.
The Dep/Adjust tab displays all outstanding deposits and adjustments, and indicates if they have cleared.
5) After checking all checks, payments, deposits, adjustments, make sure that the "Out of Balance By" amount says .00 (ZERO). If you are not out of balance by zero, figure out what the difference is and enter any adjustments as necessary to reconcile. Ex: if a manual check was not entered in the system but it is showing the it the bank statement, or if an ACH cleared in the bank account but was not entered in the system. In order to enter the adjustments, click ACCEPT in the "Reconcile Bank" window, enter the transaction that is not showing in the bank reconciliation, update the register and go back to Step 2 above.

6) After you have finished checking all the items that cleared the bank in that particular month, click the Print button to print the Bank Reconciliation Register. Verify that the adjusted bank balance amount and the calculated book balance amount on the Bank Reconciliation Register match. If the amounts do not match, you are out of balance. See example below.
7) After you print the Bank Reconciliation Register, you will be asked if you would like to "remove the cleared items". Click YES. The remaining items are the outstanding items that have not cleared the bank account in the particular month that you are reconciling.
Completing the Bank Reconciliation every month will ensure that your GL balances for your Cash accounts are accurate and that all the payments and receipts have been accounted for. Once the Bank Reconciliation is done, you can be sure that if a customer tells you that they have paid a particular invoice in a month that has already been reconciled and the payment is not showing in the system, is because the check was never cashed and they would have to re-issue the payment. This simple example shows just how important it is to do the bank reconciliations.