Simple Isocratic LCMS Compatible Assay Method
The USP Assay Method for Fenofibric Acid uses a Phosphate buffer which is incompatible with MS detection. In this isocratic Method, only Formic Acid is needed in the Mobile Phase. The Peak Efficiency and Symmetry are excellent and the run-to-run precision is reliable and robust, as the 10 Chromatograms shown below indicate.
Peak:
Fenofibric Acid
Method Conditions
Column: Cogent Bidentate C18™, 4µm, 100Å
Catalog No.: 40018-75P
Dimensions: 4.6 x 75mm
Mobile Phase: 50% DI Water / 50% Acetonitrile / 0.1% Formic Acid (v/v)
Injection vol.: 1µL
Flow rate: 1.0mL / minute
Detection: UV @ 285nm
Sample Preparation: 135mg strength Trilipix (Fenofibric Acid) Delayed Release Capsule contents were ground with a mortar and pestle. The contents were added to a 100mL volumetric flask containing 50mL Methanol. The flask was sonicated 10 minutes and diluted to mark with Methanol. Then a portion was filtered with a 0.45µm Nylon Syringe Filter (MicroSolv Tech Corp.). 100µL of filtrate was diluted with 900µL of Methanol.
Note: Fenofibric Acid is used to moderate Cholesterol levels for patients at risk for cardiovascular diseases. It lowers the amount of Triglycerides and low-density Lipoprotein (LDL) Cholesterol, as well as increases the amount of high-density Lipoprotein (HDL) Cholesterol. It is often used in combination with Statins.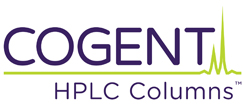 Attachment
No 185 Fenofibric Acid Capsule Analyzed with HPLC pdf 0.3 Mb  Download File