Rapid, High Efficiency Method by LCMS
This method is highly specific, efficient and fast for the analysis detection, small volumes of the reaction mixture can be injected and of trans-4-hydroxy-L-proline. Due to the high specificity of the the amount of the produced compound can be determined. No derivatization is required for the detection of this important compound.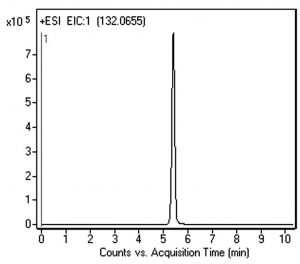 Peak:
Trans-4-Hydroxy-L-Proline 132.0655 m/z (M + H)+
Method Conditions
Column: Cogent Diamond Hydride™, 4μm, 100Å
Catalog No.: 70000-05P-2
Dimensions: 2.1 x 50mm
Mobile Phase:
—A: 50% Methanol / 50% DI Water / 0.05% Acetic Acid
—B: 97% Acetonitrile / 3% DI Water / 0.05% Acetic Acid
Gradient:
Time

(minutes)

%B
0
95
10
30
11
30
12
95
Post Time: 5 minutes
Flow rate: 0.4 mL / minute
Detection: ESI – POS – Agilent 6210 MSD TOF Mass Spectrometer
Injection vol.: 1μL
Sample Preparation:
—Stock Solution: 1 mg / mL in Methanol diluent.
—Working Solution: Stock aliquot was diluted using 50% Solvent A and 50% Solvent B mixture for the final concentration 0.5 mg / L. Before injection, solution was filtered using a 0.45µm Nylon Syringe Filter (MicroSolv Tech Corp.).
Note: Isomers of Hydroxyproline have been found in nature. Trans-4-Hydroxy-L-Proline is the major component of Collagen, Gelatin, plant wall Proteins, etc. It is a useful material for synthesis of pharmaceuticals such as Angiotensin converting enzyme inhibitors and Carbapenem antibiotics.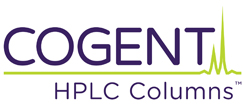 Attachment
No 131 Trans-4-Hydroxy-L-Proline by LCMS pdf  0.2 Mb  Download File