INTERNAL ONLY – THIS ITEM IS DISCONTINUED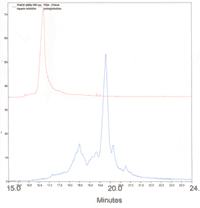 Method Conditions:
Voltage: 30 kV
Capillary: MicroSolvCE Bare Fused Silica 50µm 60cm Total
Injection: Hydrodynamic, 7mbar, 5 seconds
Run Buffer: CElixir Accelerator (B) pH 6.2
Organic Additive: None
Detection: UV 190nm
Method:
Using a Beckman™ P/ACE MDQ™ capillary electrophoresis instrument and a MicroSolvCE™ bare fused silica capillary, catalog number 04050-C, the separation of both Lactoglobulin and Trypsin Inhibitor protein standards was shown. Ramping the voltage for one minute before beginning the separation was employed after inserting a 1 sec injection of a "water plug". This aided in the precision of this method.
Discussion and Rationale:
The blue e-gram is Trypsin Inhibitor standard and the red e-gram is the Lactoglobulin Protein standard. These separations show that separation near neutral pH produces very good peaks.