CONFIDENTIAL & FOR INTERNAL USE ONLY
In each Module a Standard View is available but you can create a custom view to include additional fields when clicking on the magnifying glass . You can select a different view depending on what type of information you need. Please see below for the steps on how to create a custom view in MAS90. This process can be done on all views in all modules. The example below was taken from Inventory Inquiry but these steps apply for all modules.
1. Select the Magnifying
2. Select the Custom icon on the Item List pop-up
3. Select Create New View
4. Create a description
5. Select Default View if you would like this view to be the default if not then do not check this box.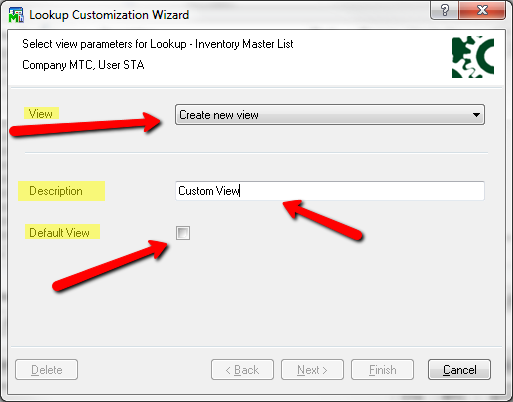 6. Click on Next. This will bring you to a table with Available Fields and Selected Columns
7. The left hand side of the table includes all of the fields that are available but not selected to be apart of the view. To add one Available Field to the custom view highlight the field name and click on the one arrow . NOTE: If you click on the double arrow ALL available fields will be added. Once all desired fields are selected click on Next.
8. After selecting Next a Lookup Customization Wizard Window opens. If you want to add any filters for a certain lookup you can do this by selecting Column Name, Operand and Value. For example if you were interested in a lookup that shows all items that end with RS you would select the options shown. Once you have selected a filter or decided not to use one at all select Finish to complete your customer view.